Read GK Questions about Virat Kohli's Cricketing Life and Know about his Education/ Favorites/ Highest Scores –
Virat Kohli, Indian Cricket Captain and one of the best batsmen not only of India but also of the world, doesn't need any introduction. He is the rising sun of Indian Cricket. At present, his career is at its peak. His fans wish to know more and more about him. His cricketing life, personal life that involves his education, achievements, family, hobbies etc.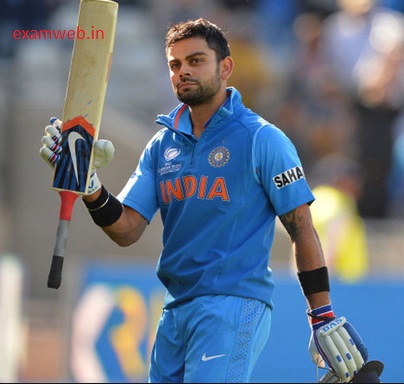 Here we are throwing light on Kohli's life, achievements, great events and other aspects related with it. It shall be in the Question/ answer form. We hope it shall be beneficial for you as his fans or examinees of various exams.
First of all we shall talk about his education. Most of his fans/followers may be curious to know about his education just for knowledge sake.
Kohli's Educational Qualification –
At the very early stage of his life, he had picked his bat. He became the U-19 World Cup team captain. It shows that he didn't get chance to go to college for higher studies. His educational qualification ended in school.
He was 12th from Vishal Bharti Public School, Delhi. So for the sake of cricket, which was his passion, he could pursue his studies after 10+2. But today, millions highly qualified people are Virat Kohli's fans and follow him at Twitter and Facebook.
More Questions about Virat Kohli's ( Cheeku) life/ Cricket Career –
Q. What is Kohli's date of birth and place ?
Answer – On 5th of Nov 1988 in Delhi.
Q. About his parents ?
Answer – Father Prem Kohli and Mother Saroj Kohli. Kohli's father was a Criminal Lawyer whereas his mother a housewife.
Q. When and against which country did he make his test debut ?
Answer – June 20, 2011 against West Indies
Q. About Kohli's ODI debut ?
Answer – 18th August 2008 against Sri Lanka
Q. T-20 debut – date and country ?
Answer – 12th of June 2010 against Zimbabwe
Q. Highers Scores of Kohli in Test, One Day and T-20 games ?
Answer – ODI Highest Score / Country/ Year – 183 against Pakistan 18th of March 2012
Test Cricket Highest Score / Country/ Year- 235 against England on 8th Dec 2016
T-20 Highest Score – 90*
Q. What his Kohli's ODI shirt no ?
Answer – 18
Q. Who is Virat's Inspiration in the cricket world ?
Answer – Sachin Tendulkar
Q. Which tattoo is there on his upper right arm ?
Answer – Kohli is a tattoo lover. He has four tattoos inked on his body. Upper right arm – Zodiac Sign Scorpio.
Kohli's Favorites
Q. Which is Kohli's favourite adventure sport ?
Answer – Rafting
Q. His favorite food ?
Answer – Sushi
Q. Kohli's favorite actor ?
Answer – Aamir Khan
Q. Favorite Hollywood Movies ?
Answer – Rocky 4.
Q. In how many innings, has Kohli achieved a milestone ( completed 10,000 runs )
Answer – Just in 205 innings completed in the match playing against WI.
Q. Who is the wife of Kohli ?
Answer – Anushka Sharma
Other useful link for information about Kohli.