There is much craze among the youngsters in India to become a Pilot these days. Most of them wish to catch the sky by becoming a pilot. But the problem is that many of them don't know how to fulfill their dreams by becoming a pilot. Besides they wish to know the eligibility, institutes that provide the course and salary given to the pilots. Through this blog, we are trying to provide the answers of these questions.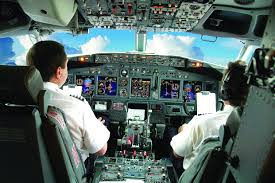 First thing to is to know what type of pilot you wish to become. For that you need to possess the concerned license.
Types of Licenses –
Recreational Pilot License
Commercial Pilot License
Airline Transport Pilot License
Private Pilot License and so on.
Student Pilot License and Private Pilot License –
For obtaining the said licenses, the aspirants must possess 12th with Non-Medical ( Physics, Chemistry and Math) with minimum 50%. The minimum age is Sixteen for Student Pilot and Seventeen for Private Pilot. For both SPL and PPL, the candidates must be physically and mentally fit besides having sound knowledge of English ( Writing, Reading and Speaking with complete Understanding).
Eligibility for Flight Instructors and Commercial Pilots –
For getting both types of licenses, Civil Aviation Regulation has fixed the minimum age bar at Eighteen. The other conditions related with physical and mental fitness and English language acquisition are same as for SPL and PPL.
Airline Transport Pilot Certificate Eligibility –
The minimum age must be 21. In some cases it may be 23. It requires four years' degree in engineering/ science etc.
Commercial Pilot License – There is a 200 hours' flying training. Those who have completed this flying schedule, can apply for CPL to Directorate General of Civil Aviation ( DGCA).
Institutes Watch for Pilot Training Courses –
Asiatic International Aviation Academy Indore
Blue Diamond Aviation Pune
Airline Prep School ( ALPS), Mumbai
Acumen School of Pilot Training, Delhi
International School of Aviation ( ISA) New Delhi
Indian Aviation Academy, Mumbai
Steps for becoming a Pilot –
Medical Test – The aspirants need to undergo the Medical Fitness Test. This test is conducted by selected Doctors. They give a Medical File No to the successful candidates. For checking the penal of the doctors, you can visit this website of DGCA from here.
Medical Fitness Test will include proper eye-sight. Proper co-ordination in the movement of hands and feet ( Motor Skills Coordination ).
Obtain Computer No – You can get your Computer No from the following link – http://udaan.nic.in:8080/udaan/
For the Theory Exam, you will need this computer no. For getting this no., you will need 10th and 12th Marks Sheet, DOB, Photos etc. Read instructions from the above link.
Written Test – There is the exam testing the knowledge in the subjects like Air Regulations, Air Navigation, Aviation Meteorology etc.
Flying Test – In the end, there shall be the Flying Test of 60 hrs to 200+ hrs depending upon the certificates required. Then you can apply to DGCA for license.
Salary for Pilots in India –
The pilots in India get salary somewhere between Rs 3 lac to 10 lac per month depending upon the nature of license, employers and experience of the candidates.