Board Exams are going on around the country. There are different boards at state and national level, which hold the exams for various board classes such as 10th and 12th every year. The main boards are CBSE, ICSE, besides state boards.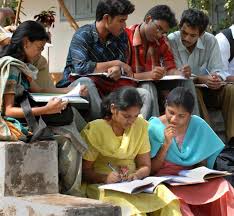 When boards are ready for exams, students are doing their best to reflect their year's preparation. But some reports of mass cheating during the exam at some centres both irritate and pain us.
Now there are reports of cheating in Bihar, even there was the video showing the students copying and their parents helping them with chits of contents useful for them during the exam.
We could see them scaling the long walls and supplying their wards with unfair means. Even the Bihar CM had to come forward to give the statement on this issue. He had to request the parents of the students to restrict themselves from such practice that could ruin the future of the concerned children.
Must read about the present education system.
Should the Geeta be the Part of School Curriculum in Haryana ?
Board Exams – Preparation for Copying
This is not the case of one Bihar or any particular time. Board exams have always been a matter of discussion as far as the use of unfair means is concerned. What to speak of parents, even the teachers participate a lot in this immoral practice.
The only reason is to improve the exam result. Even in our times, we were shocked to see the teachers making sincere efforts in this insincere practice.
Though through out the year the teachers keep preaching against this immoral practice but I don't know as to what happens to them at the time of Board Exams.
Even during the Home exams these teachers become very strict as they don't allow the children to turn their heads a bit. Even in some cases they make Copy cases against the wrong doers but during the board exam we see different faces of these teachers.
Those who are involved in such malpractice must know that they are hollowing the future of the country. It is clear from the shocking revelation that the eighth class students can not read a sentence from the Hindi Book, what to speak of using English and learning maths and science.
Conclusion –
No doubt, the future of the country is in the hands of the teachers and parents. They can make it or mar it – choice is theirs. For momentary success or achievement, we can't play with their career.