Reasons as to why HSSC Gram Sachiv Paper cat 01 against advt no. 09/20219 cancelled – Also download Gram Secretary new exam dates from below –
The papers of Gram Sachiv held by Haryana Staff Service Commission on 9th and 1oth Jan 2021 are cancel owing to the reasons mentioned beneath. The HSSC had conducted the papers of the said posts on 9th 10th Jan in two shifts per day. There were total 700 posts of Gram Sachiv. But the govt. had to cancel the papers owing to the leakage.
The Dy. CM of Haryana Mr. Dushyant Chautala had given this information. He said that the govt had come to know of the leakage and cancelled the papers. People know that the answer keys and question papers were available on mobile phones in some centres ( some private colleges and other institutions )
The commission had also issued notice to this effect. It also mentioned the cancellation in this notice. The notice is available on the commission's website. The notice has read the same thing. Read in details this cancellation notice from below –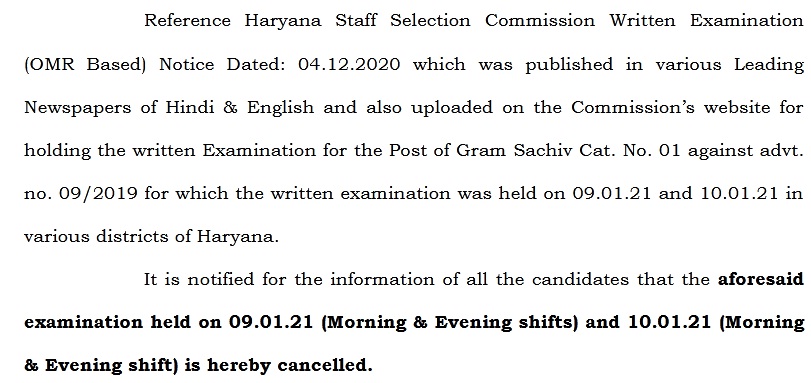 Almost most of the institutions and websites have made the Gram Sachiv Answer Key available. Students were checking their responses from them. Even they were waiting for the result and official answer key.
This cancellation of the exam has broken the hearts of many candidates. Some candidates have fared the tests very good. They were hopeful that their names would appear in the result/ cut off list. These candidates expressed their sadness. One candidate from Narwana, Mr. Tushar, said that this news was shocking. He was optimistic to clear this test.
New Exam Dates of HSSC Gram Sachiv Paper
As the paper has undergone cancellation, new exam dates will come now. We shall publish new exam dates as soon as they appear in the official notice on the official websites.
Official Website for this paper update –
https://www.hssc.gov.in