Check/ Tally your answer from HSSC Gram Sachiv Answer Key 2021 – 9th Jan Morning Session. Answer Key of English Portion of the paper
Solution of Gram Sachiv ( HSSC ) of English Portion 2021
Our team has  made serious effort to give the correct answers to the under given questions. They may be wrong at some places. We request you to correct them there.
Note 2021 : This test has been cancelled. Read this story here.
We have undergone the whole paper. The Gram Sachiv paper was not easy. Especially the General Knowledge portion of the paper was a bit tough, as some candidates say. It means the cut off may not be very high.
Q. Directions ( Questions 77 to 79 ) Fill the blanks with appropriate words :
77. I hope you will not turn …………my request.
Answer – down
78. Students will go on an …………
Answer – Excursion
79. Because of the heavy rain, the match was ………….
Answer – called off
80.Choose the one which best expresses the meaning of the idiom given in bold in the following sentence.
She rode roughshod over her tenant when she decided to sell the house without informing her tenant about her plans.
Answer – insulted
81. Read the sentence to find out whether there is any error in it. The error, if any, will be in one part of a sentence, mark the option of that part with error as your answer, if there is no error, mark D. ( Ignore error of punctuation )
It was time that you started working.
Answer – It was time that
82. Fill in the blanks in the following sentence with the correct form of the word given in the bracket.
The notice read………..( accommodate ) on first come first serve basis.
Answer – Accommodation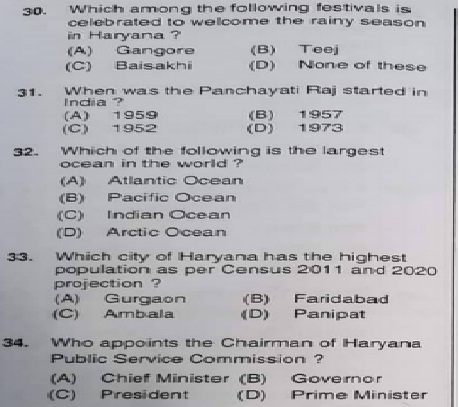 Note :- We do not claim that all the sentences above are correct. There may be some mistake. You will inform us via comment box whether the answers are correct or not. We request you to tell us correct answer if we are wrong. We shall update ourselves with HSSC Gram Sachiv Answer Key and Result with Cut Off marks of other sessions as well. Best wishes.