Today in the programme Mann Ki Baat, Prime Minister Narendra Modi Congratulated all the successful students of all Board Classes. Addressing the students, the PM told them that lose and win are the two phases of the same coin and must be treated stoically.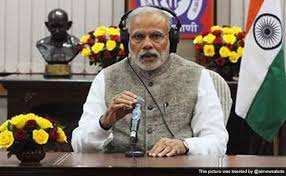 He also wished them good luck for life and career. It is well known that the PM loves to interact with the students whether in the country or abroad. In his last visit to China, he addressed the Chinese Students in two universities there. Earlier on Teacher's Day, he interacted with the students.
Even in the same programme Mann Ki Baat some time ago when it was the time for the Board Exams to commence, he had given some tips to the students as to how they could face the exam successfully.
PM talked to the students in his Mann Ki Baat
Even the students got benefited a lot. There were students who confessed this thing after they had obtained good marks that Modi's tips had indelible impact on their minds and they got some benefit.
The PM has a lot of expectations from the youth of the country. He has expressed this hope from the local as well as International platforms that India's strength is its young population.
Besides addressing and congratulating the students, the Prime Minister took issues of One Rank One Pension Scheme ( OROP ) and said the govt is damn serious to bring this scheme. However, this is one of the complex schemes and the govt is trying to simplify it. He also called upon the people to celebrate the World's Yoga Day on 21st of June.
As this is the exam time in 2017, we are updating this post for the benefit of the students. We hope that PM's golden views will certainly help the students during this crucial hour of their life.
Read some more related Articles from below –