The people of UP can check the New Ration ( Rashan) Card status & New List 2022-2023-2024 as per their names and districts from ahead. The beneficiaries under the UP Ration ( Rashan) Card scheme are – APL ( Above Povery Line), BPL ( Below Poverty Line).
यू पी राशन कार्ड स्टेटस / नए राशन कार्ड को कैसे खोजे / योग्यता /ऑनलाइन / ऑफलाइन फॉर्म भरें।
Besides the people also get benefits under Antodaya Ann Yojana ( AAY). No doubt, in addition to the genuine beneficiaries, there are bogus ones also. That's why the new CM of Uttar Pradesh, Sh Adityanath Yogi has also initiated the process of reviewing the ration cards of the people under BPL.

How to Apply/ Fill Online Application for New Ration ( Rashan ) Card ?
For getting your ration card, you can go with two options – Online and Offline. But you will be able to apply for new ration card using either of the options if the scheme is going on.
This page contains the following topics.
| | |
| --- | --- |
| Name of the Post | UP Ration Card Related |
| 1. | How to Apply for Ration Card – Online or Offline |
| 2. | Documents Required |
| 3. | Status of New Ration Card |
| 4. | Category-wise Benefits |
| 5. | Important Links related with Rashan Card |
| 6. | FAQs ( Frequently asked questions ) |
UP Ration Card Scheme is related with Food and Civil Supplies Dept Uttar Pradesh. The main objective for providing the ration card is to ensure basic food products such wheat, rice etc to the needy people. So all the people who wish to have New Ration Card can login to the Official website of the dept – fcs.up.nic.in.
Here they will have to fill the application form and submit it. All the information sought here must be genuine. Any ingenuine information may lead to cancellation of eligibility and punishment under the rule for the purpose.
Some steps for Online Registration for Rashan Card ( Ration Card )-
On the home page of the official website, you will click on the download link.
Remember the application form shall be available at the time of registration drive by the state govt.
When you have downloaded it, fill all the details sought there.
Fill Names of the Head of the family and other members along with their correct ages.
Also attach all the required documents with the application form along with recent photographs of the applicants.
How to Apply in Offline Mode for UP Ration Card Scheme 2022-2023-2024-
For that you can collect the proforma from the ration depot holder of your area.
The Application forms are also available at the Food and Supply Dept office and Computer and Photostat shops.
After purchasing this application form, fill it properly.
The essential things are the residence proof, ID proof such as Voter Card/ Aadhaar Card etc.
The depot holder of your area can tell you all the details about it.
In the end you will have to get it attested by the MC ( in case of urban area) or Sarpanch ( in case of rural area).
The form must contain the latest photograph of all the members you wish to include in the ration card.
The duly filled application form must be submitted at the concerned dept.
But don't forget to take acknowledgement of the same for future purpose.
Documents you will need for getting New Ration ( Rashan ) Card in UP ?
Voter ID/ Aadhaar Card or any Photo Id.
Income Certificate of each and every member of the family.
Address Proof with Ward No/ House No / Locality Name/ City Name.
Name/Details of the Ration Card holder of the area from whom you wish to take services.
Photo of all the family members.
How to find your BPL/ AAY Ration Card List under TPDS ? – Status of New Ration Card 2022-2023-2024

( अपनी राशन कार्ड पात्रता सूची नीचे दिए गए लिंक से ढूंढें।  )
First of use this link.
The new page shall open.
Fill all the columns such as Name of the District/ Region/ Gram Panchayat/ Committee/ Name of the Head of the Family/ Type of Ration Card/ Ration Card No in 12 Digits/ Voter Id and Bank Account No.
Submit it. You will get the status of your Rashan Card.
District-wise Status of Ration Card holder in UP –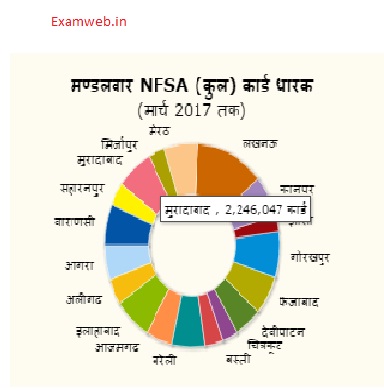 Check Category -wise benefit of Ration Cards in UP/ Eligibility –
APL – Those whose income is More than ₹ 10,000. They don't get anything from the ration depot. For them ration card serves only as ID proof for various purposes.
BPL – The income of the aspirants must be below ₹ 10,000. The benefits are – Food grains/ Sugar/ Kerosene Oil @ cheaper prices.
AAY – They must be daily wages earners or Sr citizen above 65. All ration material at the cheaper prices.
Important Links related with Uttar Pradesh Ration Card Scheme –
Find Your Ration Card List
Ration Card Holder new List
Find Answers for your Queries
Main Website – http://fcs.up.nic.in/upfood/fcsportal/FoodPortal.aspx
Important Contact Nos
What Quantity of  Food Grains under NFSA can eligible persons get ?
5 kg of Food Grains per person per month at lower prices.
Households under Antyodaya Anna Yojana will receive 35 kg of food-grains per household per month.
Prices of Food Grains for the beneficiaries under UP Ration Card Scheme –
| | |
| --- | --- |
| Rice | Rs 3 per kg |
| Wheat | Rs 2 per kg |
Note – Sugar and Kerosene don't fall under NFSA Scheme.
Dial nos for the redress of your Grievance
If you have any problem related with Ration Card, finding your name in the new list use the following toll free nos. for contact – 18001800150  or 1967
If you wish to get answer of your query, you can visit our page and write in it in the comment box below. We shall try our level best to answer it.
For more info visit Official website :- fcs.up.nic.in
Note – If you not good at Internet or Computer, it is better to go to your area's ration card holder or internet cafe for applying for new ration card in UP.