The students of various school Exams from 9th to 12th can read a Report A/My Visit to a Historical Place. This is one of the most important reports for such exams.
My Visit to a Historical Place
 A Report
Last week, the Education Society of our school organized an Education tour to the Red Fort, Delhi. It was a one day trip. As many as there were 80 students. We were all curious to witness this monumental evidence of India's Freedom struggle.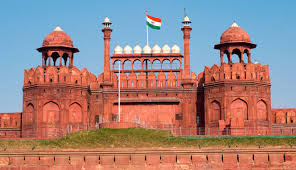 We reached the venue at 10:30 am. The Red Fort is located in the heart of Delhi. The fort was the main home of the emperors of the Mughal dynasty for around 200 years until the 1857 mutiny. It was Mughal Emperor Shah Jahan who got it constructed in 1639.
This great walled citadel with red sandstone wall took around 10 years to complete. Visit to the Red Fort is not only an Educational but also a cultural trip. This great monument is the standing example of rich Indian culture intermingling with the Mughal culture which the Mughals had brought to India with them.
My Visit to the Red Fort – A Historical Place
We enjoyed the Mughal style of architecture with the fusion of Persian and Hindu traditions. The chief chambers of the fort were Diwan-e-aam and Diwan-e-khaas. The other places the Red Fort houses are Rang Mahal, a Museum ( earlier it was Mumtaj Mahal) etc.
Each and every wall of the fort was telling us the beautiful stories of Aristocracy and Indian Freedom Movement. This is also the place from where our Prime Minister unfurls flag and addresses the country every year on 15th August.
After wandering a lot in the lush greenery of the fort, we sat down for taking our lunch. There was a small eatery outlet.
We enjoyed food there. Outside the fort, we also did some shopping. Then we started the return journey to our homes. Really it was the pleasant experience. Besides, the visit enhanced our knowledge about this great historical place and our rich culture and tradition.
By –
Kinjal
10+2 Medical
Other Reports related with Visits –