The Admit Card to the Admission to PGDBF ( Post Graduate Diploma in Banking & Finance ) through University of Manipal can be obtained from the official link below. The written Exam for Andhra Bank PO ( Probationary Officer ) shall take place on 27th of December 2015.
This is the exam for which the concerned authority has made all the preparations for its smooth holding in future i.e. in 2021-2022-2023.
After the completion of this exam, the candidates may join the Andhra Bank in the capacity of POs. So this course is very important for all the examinees.
The Registration for the PGDBF Course offered by Manipal University had opened in the month of Nov and ended in December ( 17/11/2015 to 01/12/2015 ). There shall total 200 candidates whom the department will select through this exam. Category-wise No of the Candidates are as follows –
The General Candidates are – 101
Other Backward Candidates – 54
Schedule Caste Candidates – 30
Schedule Tribe Candidates – 15
Note – 3% Seats were reserved for the Persons with Disabilities.
The Andhra Bank 2015 Admission Exam Admit Card/ Call Letters were available at the official website on 14th of December 2015. The candidates must click this link to reach your destination. The goal for  Roll No. Region is – http://ibps.sifyitest.com/abpgdfcnov15/cloeb_dec15/login.php?appid=285163029ccd6aee1ab988877522d6cb
Here you will have to fill your Registration No and Date of Birth or Password. You need to fill the language option also. ( Note –  The candidates must fill Red star areas to obtain their Andhra Bank Admit Cards for PO Exam ). Check the Specimen for Andhra Bank Roll No. from below –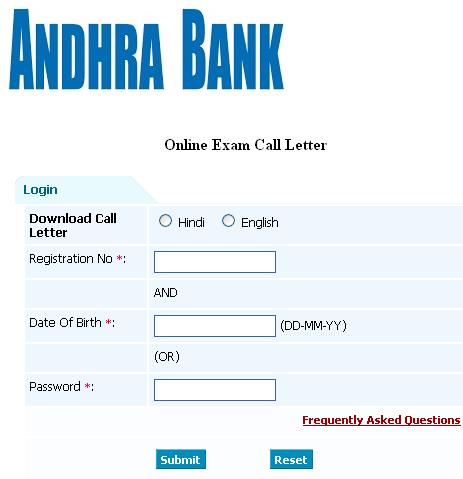 Check the Exam Schedule –
The AB PET will take place from 16-12-2015 to 22-12-2015 including Sunday.
Date of Examination is 27-12-2015.
Official Website for all type of Information regarding with Andhra PO Exam and PET/ Exam Call Letter/ Roll No.- www.andhrabank.in.
You can Practice Exam Papers for all subjects from here.
About Andhra Bank –
This is a medium-sized Public Sector Bank with Two Thousand Five Hundred and Seven branches all over the country. The bank came in to existence on 20th of November 1923 with its headquarters in Hyderabad.