Get Information about Regional Festival Teej ( तीज फेस्टिवल  ) August 2023 ( Saturday )
India is a land of festivals. A large no of festivals and fairs are celebrated by the people in the villages and cities. The Teej festival is also very popular in the country. This festival comes during Saavan ( Rainy Season). This time people are preparing to celebrate it with great enthusiasm. The festival is also known as Kajari Teej, Hartalika Teej etc. This is the festival of women and children.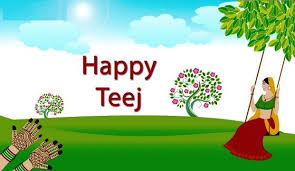 There has been a great change in the celebration of this festival. The essence of this rural festival is marred by the modernity. There was the time when people started celebrating it for many days. The were swings set up 7 to 10 days before the festival. Young and old women, girls and children would enjoy the swings continuously for hours. But now there is no time for such activities.
There are fairs held at the big space in every village and city. There are stalls for eatables, bangles, toys, artificial jewellery, henna etc. The fair starts in the evening and continues for 3 to 4 hours. Children also enjoy swings. With the passage of time, the style of these swings have also changed.
Read a Report Independence Day
There is also the kothli ( bag full of gifts) tradition during this festival especially in Haryana. The parental family members of the married women bring kothli a few days before the festival. Even mothers-in-law offer special gifts called sindhara to their newly married sisters-in-law. The puja is performed in the morning. The worship takes place in the Square. Women worship Goddess Parvati ( Lord Shiva's Consort). This is also the festival of songs and dances. Women organize programmes for themselves where they sing and dance.
The Haryanavi Folk song कच्चे नीम की निम्बोली ……   सावन जल्दी आयो रे is at every rural woman's lips this time. Children are happier during the festival. They also wear new clothes. They purchase toys and enjoy chaats. Some children also fly kites on this day. Special dishes such as Puri, Kheer, halwa are also prepared for dinner.
Evening time is more special, specially for the children. They go to the Teej Fair with their parents and enjoy swings and purchase toys.
But one thing is sure the real essence of this festival is lost in modernization and commercialization. Now nobody knows those songs which used to be the spirit of this festival, swings are gone and fairs are finished.
There is huge rain in many parts of the country. It can hamper the Teej celebration.
In 2018, the Teej will fall on 13th of August ( Monday ). 
In 2023, the Teej will be celebrated on 19th Of August ( Saturday )
Happy Teej !
Click here for reading other reports/essays