Get Complete HSSC Exam Syllabus- Pattern / Sample Papers for your Upcoming Exams in Haryana -

HSSC (Haryana Staff Selection Commission) is doing recruitment for various posts in various departments. For some posts, the online applications have been filled and for others the Registration process has just begun.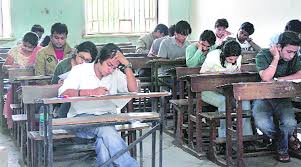 There are posts for Teaching Departments with the posts like TGT/ PGT, there is the posts in Electricity Department, Health Department, Police Department, Taxation Department and various more. For all the posts, the Haryana Govt has chosen a uniform Selection pattern.
The HSSC Syllabus for the Recruitment Written Exam for all the posts is almost same. The Marks for the written exam are equal for all the said posts. Then there is the Interview Schedule. For some categories like TGT/PGT, the Experience shall also be considered. There are other posts in which Experience shall not be counted.
Check Details of HSSC 2015-16 Written Exam Syllabus and Pattern -
हरियाणा राज्य में विभिन्न पदों के लिए होने वाली परीक्षाओं के लिए एच एस एस सी  का पाठ्यक्रम नीचे से डाउनलोड करें।
There shall be the written exam for the PGT, TGT, JE, Clerks, Taxation Inspectors, Mandi Supervisor, Mandi Secretary, Police Constables, Sub Inspectors, Nurses, Drivers, Conductors etc.
HSSC Syllabus and Pattern excluding PGT/ TGT Posts -
The Written Exams for all these posts shall consist of 100 Objective Type Questions. Each Questions shall be of 2 Mark each making it a paper of 200 Marks.
The Whole 100 Question Paper shall be divided in to two Parts - 75% and 25%. The 75% shall consist of General Awareness, Reasoning, Maths, Science, English, Hindi etc. It will also carry some questions from the concerned subjects.
Download Question Papers / Practice Papers-
The 25% Portion will give weightage to Haryana Current Affairs, Literature, Geography, Civics, History, Environment, Culture, Tradition etc.
You can download Paper for Haryana General Knowledge from here
Then for the successful candidates, the viva voca ( Interview ) shall be conducted. The Interview shall be of 25 Marks.
Download Complete Syllabus for HSSC PGT ( For all Subjects along with Question Papers ) from here.
Download HSSC TGT English / Physical Education Syllabus from here.