Tamil Nadu Teachers' Eligibility Test will take place on June 27 and 28, 2022 ( Tentative ). The examinees can check their TNTET Answer key / Result Info with Complete Solution from this page. This is a compulsory test for teaching-job-aspirants in the state. Hence, the examinees are quite concerned about their fate in the form of TET Result.
We love to inform you that your Teachers' Eligibility Result will be out soon. Check Paper wise result from Direct links ahead. Thanks.
Details about Tamil Nadu TET –
In this test compulsory for becoming teachers from Primary and Upper Primary, around 2,41,000 candidates had appeared for Paper 1. For Paper 2, the no. was 5,12,000 something. The Result is expected in last week of June or First week of July 2017.
The test took place for two categories of teachers – Upper Primary Teachers and Lower Primary Teachers.
How to check Official Answer key for TNTET 2022-2023 –

The examinees must visit the official website after two or three days after the exam.
At the Home Page, you will get the related notification.
Official Answer key shall have the following title – Paper 1/ Paper 2 27th June /28th June Answer key.
You will find the whole solution there.
3 Easy Steps to reach the Result 2022-2023 –
At the official website (http://trb.tn.nic.in/) Home Page, you shall find Tamil Nadu TET Result link.
While using it, fill your test roll no.
The result shall appear on your screen immediately.
Check your Result from the official website.
Have a look at TNTET Pattern
There were total 150 questions which the candidates had to answer in 180 minutes' time. Maximum marks were 150. Check details of the paper from ahead –
The paper had five parts with equal no of questions and marks.
| | |
| --- | --- |
| Child Pedagogy | 30 Questions |
| Language 1 | 30 Questions |
| Language 2 | 30 Questions |
| Math | 30 Questions |
| EVS | 30 Questions |
Language 1 is for Tamil, Telugu, Malayalam, Kannada, Urdu whereas Language 2 for English. The paper was available in both Tamil and English languages.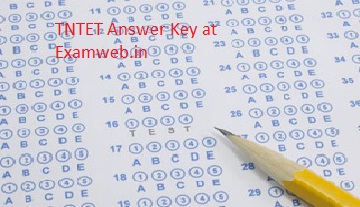 TNTET English Solution of previous paper –
Q. No of syllables in the word Competition ?
Answer – Four
Q. Correct Dictionary sequence –
Answer – C,B,A,D
Q. Find the sentence pattern in the following sentence –
Trees give fruits to us year after year.
Answer – Sub + verb + direct obj + indirect obj + adverb ( SVDOIOA)
Q. Stationary and Stationery are homophones.
Q. Mala is younger than Kanan.
Q. Define Jaywalker –
Answer – A pedestrian who ignores traffic regulations.
Q. Wrongly spelt word was evasive. ( Note – this is the correct spelling)
Q. Grievances can not be redressed unless they are known.
Q. I was stunned when I was hit on the head.
Q. Neem leaves heal skin diseases.
Q. There are fifteen players in the team.
Answer – It's question form is – How many players are there in the team ?
Q. Asoka was a wise king.
Answer – Asoka – Proper Noun, King – Common Noun
Q. This book is your book.
Answer – This book is yours.
Q. S sound in the word gas is …
Answer – Fricative
Q. Fish is not ….
Answer – Apophonic
Q. Yours faithfully is a….
Answer – Subscription of a letter.
Q. Latha started the quarrel.
Answer – Here the verb started is a transitive verb.
Q. A horse …..
Answer – Neighs
Q. Well boiled-icicle ……..
Answer – Spoonerism
Q. The lesson is interesting is a …
Answer – Statement
Q. Words Sombre, Melancholy, Grieving, Mourn reflect …
Answer -Sadness
Q. Plural of Ox is Oxen, the plural of staff is ….
Answer – Staff
Q. At the outset…..phrase always ..
Answer – begins the debate
Q. Then, what gems would be see ? Perhaps a beautiful heart ? Device is ..
Answer – Metaphor.
Q. Correct use of Collective Noun –
Answer – A flock of birds
Q. Question tag of the sentence – I am your teacher, aren't I ?
Q. Kindled means ..
Answer – Awakened
Q. If it had rained well, the farmers would have been happy. (If Conditional Clause )
Q. Which word is palindrome among the following –
Answer – MALAYALAM
Q. One word for Study of a Language –
Answer – Philology
Note :- The syllabus of TNTET Paper I and Paper II are different.
The result of TNTET may come out on Aug 20, 2022.
pdf file for downloading Child Development/ English/ Language 1/ Math/ EVS Answer key, Result etc. official website – http://trb.tn.nic.in/