The Haryana Govt. will receive the fees of 11,34,770 candidates for Group C and Group D posts – Read complete news/ updates/ information from below – Useful links for the candidates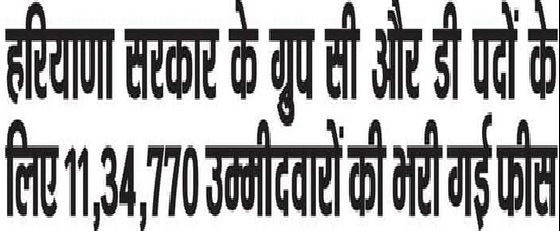 Haryana Govt mass recruitment 2022 for Group C and Group D posts may receive the fees from 11,34,770 candidates for CET ( Common Eligibility Test ). Only 82.4 per cent candidates could deposit their fees. In the last a few days, the site's server was down occasionally. That is why some candidates were having problem in depositing their fees. There were the incomplete forms of 14.2 candidates. 03.4 per cent candidates could not deposit their fees.
The candidates up to 11.13 Lakh have been verified as per Family ID whereas the candidates' data of around 26,443 have been verified through Aadhar Card. The 1,60514 candidates having 10th class DMC  have been verified whereas the 1,29,492 candidates with 10+2 DMC have been verified.
The HSSC will send this data to NTA ( National Testing Agency ). The candidates will get their registration for CET exam district wise. The CET will be conducted by NTA. HSSC President Mr. Bhopal Singh Khadri has told the media persons that CET may be held  very soon. Syllabus of CET has been already out.
For CET, the most candidates from Hisar have been registered. The fewest number of candidates around 9,368 had filled the forms of CET from Panchkula. At the second place comes Jind with 89,961 candidates whereas the third place has been obtained by Bhiwani with 89,796 candidates. The second last number after Panchkula has come from Nooh with around 15,714 candidates.
There were total male candidates were 6,93,818 whereas the female candidates were 4,40,952. The handicapped persons who got themselves registered were around 9,358 whereas EWS candidates were 99,263. The widows were 2,348 whereas orphanage candidates were 47, 538.
| | |
| --- | --- |
| Category | Candidates |
| De-notified Tribes | 18,692 |
| SC | 2,59,075 |
| BC | 3,69,738 |
| Ex-Serviceman | 9,160 |
| ESP ( Sportsman ) | 7,233 |
For Haryana related such news/ information/ updates etc., keep visiting this page. We shall update this post very soon. Best wishes for your exams.