Read a brief essay on The Crime of  Female Foeticide in India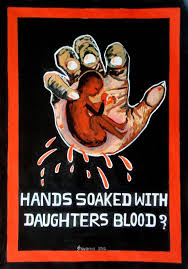 Female foeticide has become a major problem in India. Killing the girls in the wombs of their mothers has become a common practice in some of the parts of the country. It is ironical that a country where everything from trees to stones are worshiped, girls are killed so mercilessly. In our scriptures, it is clearly written – यत्र नार्यस्तु पूज्यन्ते रमन्ते तत्र देवता। This line means – Where there women are worshiped, gods live there.
But it seems that this thought is limited to the scriptures only. In reality, girls have become the burden on the families. Parents don't want to give birth to the girls in the fear that they will have to give dowry at the time of their marriages. There are the news reports regarding rapes, bride-burning, molestation etc. Such news reports are also discouraging the parents to give birth to the female children.
There is another orthodox reason also responsible for the girls' prenatal deaths. And that is the longing for a son. Most of the illiterate people think that only sons can carry their family names forward. If there are daughters, their family name will die with their marriages. The sons will also look after them in their old age. But they don't know that time has changed.
Essay on Female Foeticide
Girls are bringing laurels to their parents, cities and country. Name any field they have proved their mettle. In sports Saina Mirza, Saina Nehwal, in Aeronautics, we have Sunita Williams, Kalpana Chawala, in Politics we have great female politicians and now they have made their mark in the army also. So for unreasonable fear, if the parents are not allowing their girls to come to this life, it is ridiculous and merits harshest punishment.
It is sad and shocking that the main culprits in this massacre of innocent daughters are the doctors whom we consider the second god as they are expected to save life. But for some silver chunks, they don't hesitate to kill the girls in their mothers' wombs. For that they are misusing the Science and Technology. For such unscrupulous doctors there must be the exemplary punishment.
In case of female foeticide, the sex-ratio has skewed in some of the regions in the country. It can cause grave situation in future. There can be the danger on the existence of human beings. Prime Minister Modi understands this problem. That's why he initiated his pet program called Beti Bachao, Beti Padhao. This program has a great impact on the people of the country.
The Parents must be made aware in other ways also. Govt has started new schemes in the names of the girls. Now such steps have started showing good results. In some states sex-ratio has improved. The mind-set of the people has also changed. But there is much more to be done in this direction.