Justice Sh Tirath Singh Thakur has been sworn in by the President of India as the New Chief Justice of India ( CJI ). He shall be the 43rd CJI of the country. Now read some of the details of his life from below –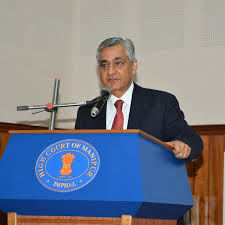 Full Name – Sh Tirath Singh Thakur
Name of the father – Sh Devi Das Thakur, Former Deputy Chief Minister of Jammu and Kashmir and also  well known Jurist and Judge of Jammu and Kashmir
Date of Birth – 4th of January 1952
Date of Retirement – 4th of January 2017 ( at the age of 65 years )
His Predecessor –  Justice HL Dattu
Important Cases he dealt with –
Betting and Spot-fixing Scandal in the Indian Premier League
Multi-crore Chit Fund scam popularly known as Sarardha Scam
NRHM Scam which included a no of influential politicians
CJI Sh Thakur's  Career Journey –
He started his career as a pleader in Oct 1972.
Then he joined the Chamber of his father.
He became a senior Advocate in 1990.
He got appointment as an Additional Judge of J & K High Court.
Later he got transfer as a Judge to Karnataka High Court in March 1994.
He became a permanent Judge in Sept 1995 and in July 2004, he was transferred to Delhi High Court. Here he rose to the post of as Acting Chief Justice of April 09, 2008.
From Delhi he again came to Punjab and Haryana High Court as Chief Justice on August 11, 2008.
He kept progressing. On 17th of Nov 2009, he got elevation to the position of a Judge of Supreme Court of India. And on Tuesday, 1st of December, he took oath as the Chief Justice of India.
We shall keep updated this post as soon as we get some more input about him. CJI Thakur's Life and career history shall be beneficial for the candidates who are preparing for competitive exams, especially the law students preparing for related Exams.