We are writing down Maharashtra General Knowledge ( GK) and Current Affairs questions for Examinees from the state. We are sure that these carefully chosen questions shall be very important for them.
Maharashtra is one of western states of India. Mumbai formerly known as Bombay is its capital and also the biggest city of it. Maharashtra also has its 2nd and winter capital and that is Nagpur. Official language of the state is Marathi. Arabian Sea touches it to the West. The states which touch its borders are – Goa, Gujarat, Karnataka, Telangana, Chhattisgarh, MP and Union Territories like Dadra and Nagar Haveli.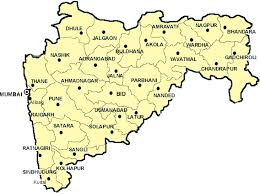 The two major rivers that run across the state are – Godavari and Krishana. The state has the following major industries – electrical and non-electrical machinery, textiles, petroleum, chemical products etc. No doubt, agriculture is always a chief occupation of the people living in rural areas. Read more about Maharashtra Current Affairs and GK.
Important Questions on Maharashtra –
Q. 1. When did Formation of Maharashtra take place ?
Ans – On May 1st 1960
Q. 2. How many districts are there in the state ?
Ans – Thirty Six
Q. 3. About Maharashtra Govt –
Ans – The Legislature in the state is Bicameral. The two parts are – Legislative Council and Legislative Assembly. The former has 78 members whereas the latter 288. The Governor is Mr Bhagat Singh Koshyari. The Chief Minister of the state is Mr. Eknath Shinde with MLAs of Shiv Sena rebel. The govt comprises of a rebel MLAs of Shiv Sena, BJP and others. The state has Forty Eight Lok Sabha Constituencies. The Deputy CM of the state is BJP leader Mr. Devendra Fadnavis.
Q. 4. What is the total area and area wise rank of Maharashtra ?
Ans – 307,713 Sq Km or 118,809 Sq Miles. The area wise rank is 3rd in the country.
General Knowledge Questions
Q. 5. What is population of Maharashtra along with the rank in it ?
Ans – 112,372,972 and rank is 2nd ( Country) as per 2011 census.
Q. 6. Population Density of Maharashtra is –
Ans – 370 per sq km.
Q. 7. Literacy rate and rank of the state in India is –
Ans – 82.9% with 6th rank.
Q. 8. Sex ratio of Maharashtra as per 2011 census –
Ans – 929 girls/ 1000 boys
Q. 9. By which act was the State of Bombay split in to two states namely Maharashtra and Gujarat ?
Ans – Bombay Re-organization Act 1960.
Q. 10. What are the State Animal and Bird of Maharashtra ?
Ans – Indian Giant Squirrel and Yellow-footed Green Pigeon resp.
Q. 11. State Tree and Flower ?
Ans – Mango and Lagerstroemia Speciosa respectively
Q. 12. Maharashtra State Dance is –
Ans – Lavani
Q. 13. What is the state game ?
Ans – Kabaddi
Q. 14 Who is the Governor of Maharashtra ?
Answer – Mr. Bhagat Singh Koshyari
For more GK and Current affairs on Maharashtra keep coming.
Read More Questions on GK and Current Situations