Latest Schedule / News for Rajasthan TET for Written Test and Admit Card /Roll No. 2023 – 2024 – 2025
Update regarding REET 2021-

REET exam which has to take place on 20th of June 2021 has been postponed due to covid-19 pandemic. New date of exam be released shortly. So keep visiting our page for further updates.

Now Rajasthan Board of Secondary Education is in the process of releasing notification for REET 2021. With that the aspirants shall come to know of the Rajasthan Eligibility Examination for Teachers Date/ Admit Card/ Roll No. releasing status. We shall do our best to bring such updates to you as earlier as possible. However, read some related news below.

Update 2021 –

REET admit card/ roll no. is out on 17th Sept 2021. The exam will take place on 26th Sept 2021. You can download your admit card/ roll no. from below.
Update May 2021 –
REET June 2021 has been postponed due to increase in the cases of corona ( 2nd wave ) in the state as well. We shall update this post with new exam date soon.
Update March 2021 –
Rajasthan Exam Board has postponed REET 2021 till June 20,2021 ( Sunday ). Previously this exam was to take place on 25th April 2021. Honorable CM Mr. Ashok Gahlot during the budget session in the legislative assembly told the people that the govt has taken this decision in favor of weaker section ( EWS ).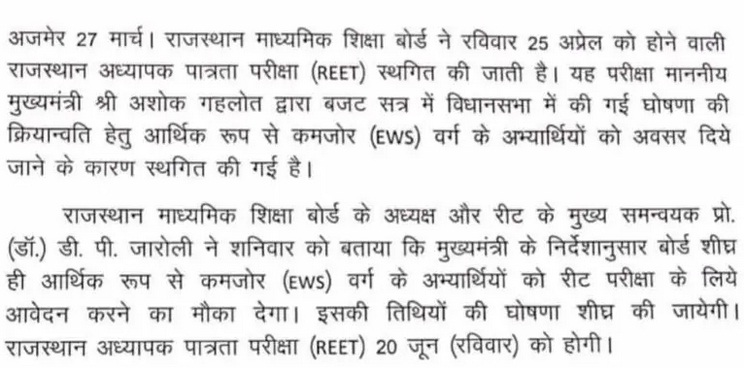 Update 2021-
REET 2021 will take place on 25th of April 2021. Roll No will be available 5 or 6 days before the exam on the official website.
The concerned department has uploaded the registration date as well as admit card downloading date at its official website. Check details from below –
REET Events
Date
Date of Online Application
From 6th of November to 30th of November till midnight
Exam Date
25th of April 2021
Exam Timing – Morning / Evening
10:00 to 12:30 and

2:30 to 5:00
REET is very important exam for young aspirants who try their luck as teachers in Rajasthan. Every year tens of thousands candidates apply for it. They are always curious for the test. That's why they are eager for 2021 test.

So far this test is undecided. There are also rumors about 2021 Test. So the candidates must not pay much heed until there is official notification.
So far the Roll Nos for this Rajasthan TET 2021 haven't been uploaded. As per the information, Admit Card may be available at least 10 days before the exam. This page shall be updated with the latest information and links regarding REET 2023-2024-2025.
Dear Examinees, the REET Answer key shall be available here after the exam.
रीट 2021-2022-2023 एडमिट कार्ड / रोल नंबर के लिए निचे दिए गए लिंकों पर क्लिक करें।  धन्यवाद।
REET stands for Rajasthan Eligibility Examination for the Teachers. Its old versions is Rajasthan Teachers' Eligibility Test ( RTET). The test is held on the pattern of CTET. Therefore the Syllabus, Pattern and Examination of REET correspondents to those of CTET.
Like other states of the country, TET is compulsory for the candidates of Rajasthan to clear REET to be eligible for the Govt Jobs as Teachers ( Lower Primary Level and Upper Primary Level ). The Eligibility Test is held every year. This test is mandatory for the aspirants of teaching line.
There is the Qualifying Written Exam of 150 marks out of which the examinees are expected to get 90 marks to obtain REET Certificate. This certificate is valid up to 5 years from the date of declaration of result. The competence of the candidates is checked in Children Psychology, Languages and specific subjects.
Download Rajasthan Eligibility Examination for Teachers ( REET ) 2023-2024-2025 Admit Card /Roll No –
The 2018 REET may take place in the month of February. So you can expect your roll nos for the test 7 to 10 days earlier. The candidates shall get a lot of information regarding their eligibility test via notification and admission card.
For more information about REET 2023 – 2024 go to official website.
Official website – rssmssb.rajasthan.gov.in 
Here you will find latest news about REET.
It is note-worthy that REET is must for getting jobs in Rajasthan.  In finalizing the merit of any selection, this test holds a great significance.
The Roll No. shall make the presence on the website from the said date i.e from January 2018. The Admit Cards shall be having much information regarding do's and don'ts for the exam.
After you have downloaded your Roll No Card, we advise you to read the instructions written on it. There shall be the same instructions as we find during CTET. So you had better check instructions from here. Moreover, we shall update the old content on this page soon.
We have also prepared some Practice Paper for the candidates of 2023-2024-2025 REET Exam. Check your preparation from here.
Rajasthan High Court has rejected the plea of some of the candidates seeking relaxation in REET on various basis. Check some of the points of the judgment –
It rejected the plea for making graduation subjects as basis for their selection in a particular subject in 3rd grade teachers' appointment.
If the aspirants have not opted for English subject in REET can't apply for English Teacher.
No 5% relaxation for widow candidates in the minimum qualifying marks.
Officials website for Exam Admit Card/ Roll No. and other related details –
http://rajeduboard.rajasthan.gov.in/
reetbser21.com
Check Questions on Rajasthan GK and Current affairs
Check your photograph and signatures properly. Besides the Admit Card, you shall bring one Photo ID to the examination hall. There should be the same photograph available on your roll no slip as you had used at the time of applying for this exam. For more details you must read the exam notice that shall also be out along with the Admit Card.
It means the duration for both the exams is 150 minutes.
REET 2023-2024-2025 Syllabus / Pattern –
For Examinees, it is more important than anything else to have access to complete Syllabus/Pattern. WE are providing here complete syllabus/Pattern for REET 2023-2024-2025. In addition, you shall find enough exam material and practice sets to clear the test. Click here for Syllabus/Pattern.
We shall keep updating the post. So keep in touch with us. If you need the answer of any of your queries, you can put your comment in the comment box below.
REET Result 2021 – 2022 – 2023 is available here.