Patna (Bihar) Civil Court Deposition Writer-cum-Typist-cum-Clerk ( Recruitment Info No – 3/2016) Written Exam Admit Card /Roll No. 2021-2022-2023 is available at the official website link below. The Exam Notice has been out and the schedule of the exam is 20th and 21st of August 2016. The candidates must read all the information given on this page before downloading their Roll No Card.
Update 2020-
Patna HC has started the recruitment of 2178 DEOs and others. There are 1645 posts of three categories and 533 posts of 4th category.
Bihar Civil Court Recruitment 2016 was out some times ago. The candidates who could fulfill the eligibility had applied for the said posts. The selected candidates will have to work under the judiciary of Patna Civil Court. Get some information regarding the Written Exam –
Patna Civil Court Clerk- Typist-cum-Deposition writer Exam Syllabus 2021-2022-2023 –
The concerned authority made some amendments in the previously declared Syllabus of the exam. Check the New Syllabus ahead –
Hindi Typing
450 words

(15 Min)

25 M
English Typing
400 words 

(10 Min)

15 M
Note – The Typing shall take place on computer only.
Online Written Exam –
After the Typing Test, the candidates will have to undergo another written exam on Computer only. There shall be the test of Hindi and English of 25 Marks each.  There shall not be any test of Math/ Reasoning etc.
 Admit Card/ Roll No. for Patna (Bihar ) Civil Court Written Test 2021-2022-2023
As only a few days are left for the exam, the candidates are anxious regarding their admit cards/ Roll Nos. Even in the exam notice, the clear date is not mentioned. You can get your Admit Card/ Roll No. for Clerk- Typist-cum-Deposition writer, DEOs etc. from the link here – http://ecourts.gov.in/india/bihar/patna/recruitment.
The essential information regarding the timing and venue of the exam shall be available at the Admit Card. The candidates can download their Admission Letter by submitting their Registration No/ Date of Birth. For the latest information regarding the Admit Card/Roll No., the candidates must use the above link to visit the related website.
No separate Roll No. Card shall be sent at the candidates' residence. If they find any mistakes in the print of the Admit Card/ Roll No., they must contact immediately. Also the candidates can contact the concerned authorities using the contact nos given at the official website –
Official Website –  http://ecourts.gov.in/Patna
Read the official Exam Notification 2016 –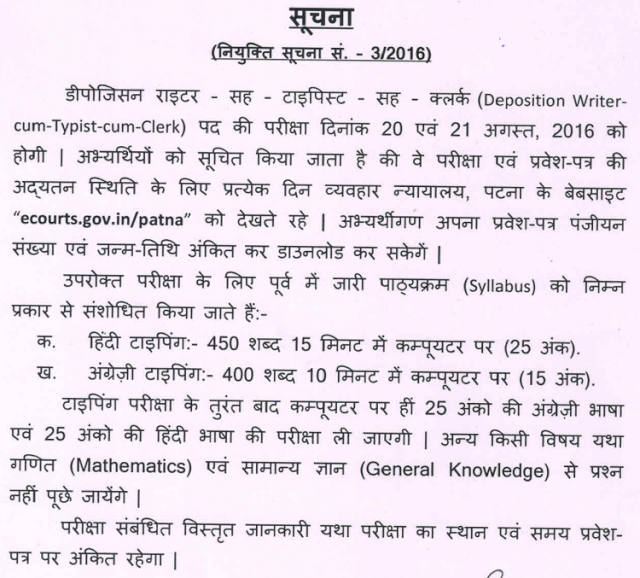 For Patna Civil Court Admit Card/ Roll No. 2021-2022-2023 keep visiting this page.