We congratulate Mr Donald Trump for becoming the 45th US President after defeating Hilary Clinton by 279 to 218 electoral votes. This victory of his has proved all pre-poll surveys completely wrong. He shall be the oldest ever President ( age 70)  of the country. His this unexpected win has shattered the dream of some Americans to see first woman President of the country.
Trump's inauguration ceremony which took place on 20th Jan 2017 saw the huge gathering of around 1,60,000 people. He was administered Presidential oath by Chief Justice of US John Roberts.
The campaign for Donald was very tough one. He had to face a lot of criticism for his anti-women and anti-Muslim tirades. Media left no stone unturned in defaming him.
The hype was created against him. But people saw in him a new leader who could bring radical changes in the country undergoing unprecedented crisis due to various reasons.
Consequently on 9th of November 2016, the results declared him the President of the most powerful country of the world.
In this article about Donald Trump, we shall supply you the information regarding his life and his political venture as Republican Presidential candidate. We shall update this post with the important events regarding his campaign as the Presidential Candidate.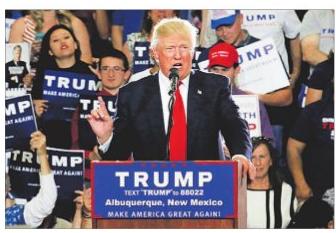 A Brief Biography -
Donald Trump, who is now a well-known personality of the USA, was born on 14th of June 1946 in Queens ( New York). His parents were - Mary Anne ( Mother) and Fred Trump ( Father). He was one of the five children.
The mother was the house-wife whereas the father was the Real Estate Developer. No doubt, he was born to affluent parents. When Donald Trump grew younger, he started helping his father in his business besides doing his graduation.
After the graduation, he devoted himself completely to the family business. He renamed his father's company Elizabeth Trump & Son to  The Trump Organization. Besides he tried his luck successfully in other businesses as well. They ranged from hotels, golf-courses to casinos.
In addition to this, he also hosted a TV programme called The Apprentice from 2004 to 2015. In all, Donald Trump is a versatile personality with strong mindset. But most of the people criticize him for his outspoken attitude.
Political Career -
This is not for the first time that Donald Trump is trying his luck in Politics. In 2000, he had campaigned for the American Presidency Post, but had retreated from the decision then. But this move was significant as far as his political career was concerned. He registered his presence in the political arena of the USA.
Then on June 16, 2015, he declared himself as the Republican presumptive nominee for the post of President. Since then, he has actively participated in the campaign for ensuring his claim. During his campaign as the Republican Presidential Candidate, he has been in the lime light for his bold speeches.
He has raised his voice against the  issues such as illegal  immigration, various free-trade agreements, his advice not to allow the foreign Muslims to the USA until the Islamic State Terrorism issue is not solved, criticism of the USA's present foreign policy, personal attack at her political opponent Hilary Clinton, making fun of the poor pronunciation English of the Indians and so on.
Now he has already cleared his position for the sole candidate from the Republican Party. His main opponent within the party, Ted Cruz has given up. His another rival John Kasich has also suspended his campaign paving way for him. The Republican Party has declared him as the Presumptive Presidential Nominee.
Update of May 26th, 2016 -
Now this fore-runner Presidential Candidate has approached 1,238 delegates required to grab the Republican Nomination on the said date. Any candidate is required to have 1,237 delegates to win the Republican candidature. Donald Trump already has 303 delegates in his favor, which makes his claim as the Republican Presidential candidate stronger and more certain.
It is note-worthy that the much-talked USA Presidential Election shall take place in November 2016. The two expected rivals are Hilary Clinton and Donald Trump. Now their campaign schedules shall be tighter with the passage of time. President Barrack Obama's tenure is going to be ended soon.
May 29th, 2016 Update - The campaign by Donald Trump was marked by clashes between his supporters and protesters in San Diego.
Donald Trump has also raised Dollar 6 Million and received pledges for another Dollar 4 Million in the first fundraising event of his.
Important facts related with Trump's Swearing-in -
He took the oath with his left hand on Lincoln Bible.
Besides him, Mike Pence took the oath as Vice President of America.
The time of oath was 12:00 pm.
His most controversial decision immediately after he had come to power was to ban people from seven Muslim countries. However, the decision was put on hold by US Court.