Prepare short questions or objective type questions with answers from Two Stories About Flying - His First Flight by Liam O' Flaherty and Black Aeroplane by Frederick Forsyth - Based on NCERT pattern - the book is First Flight - Useful links for 10th class students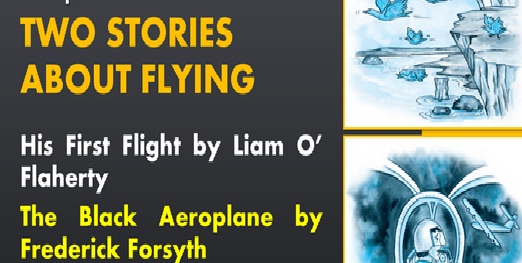 Q. Who is the writer of His First Flight ?
Answer - Liam O' Flaherty
Q. Who has written the story Black Aeroplane ?
Answer - Frederick Forsyth
Q. Who was alone on the ledge ?
Answer - The young seagull
Q. How many brothers and sisters does he have ?
Answer - Two brothers and one sister
Q. What had been he afraid to ?
Answer - He had been afraid to fly
Q. What is the meaning of ledge ?
Answer - A narrow horizontal shelf projecting from a wall or a cliff
Q. What was there in the food ?
Answer - A piece of fish
Q. Did he make his first flight ?
Answer - Yes
Q. What is the meaning of dizzy ?
Answer - An uncomfortable feeling of spinning around and losing one's balance
Q. What was old Dakota DS 088 ?
Answer - An aeroplane
Q. Where was the aeroplane going ?
Answer - From France to England
Q. What was the time that time ?
Answer - One thirty in the morning
Q. Where did the narrator call ?
Answer - He called Paris Control
Q. What was the distance of Paris ?
Answer - 150 kilometres behind
Q. What did the narrator see in the storm ?
Answer - Another aeroplane
Q. How much fuel is left in old Dakota ?
Answer - To fly for five or ten minutes more
Q. Was there another aeroplane flying that night ?
Answer - No
For Objective Type Question with solution from Two Stories about Flying, keep visiting us. We shall do our best to provide you the best content. If you wish us to add some questions here, you can share those questions with us. We shall definitely do so. Best wishes for you 10th exam.