Suresh Prabhu, the Indian Railway Minister presented the Railway Budget on 24th of Feb 2016. This Rail Budget has its both pros and cons for the critics. But the candidates who are preparing for various exams must read some key points of this budget.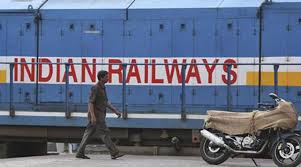 The Minister has tried his level best to derive some important goals through this rail budget. He has also raised a new slogan for the Indian Railway – Cleaner, easier, faster travel.
So main focus on the better facilities to the commoners and especially women. Below are given some of the great features of this budget.
Key Points of Rail Budget  2016 –
No hike in fare and freight
It is a consumer oriented budget.
Clean-my-coach-service has been initiated. The passengers can send SMS to the cleaning staff during the journey.
There shall be the bar-coded tickets to help tackle ticket-less journey and make it hassle-free.
The passengers can get their tickets cancelled on phone immediately by calling at 139 no.
Facilities of Women and babies –
33% sub-quota for women
Middle bays shall be for women to enhance their security.
24*7 an all India helpline shall begin for women.
There shall be the baby food at the rail menu. They will get milk, hot water and other food products on board.
Schemes for Differently Abled people –
Now there shall be One-time registration for availing concessions while booking tickets online.
Now there can be the online booking of wheelchairs.
There is the provision of Disabled-friendly toilet on A1- stations.
The new coaches shall have Braille-equipment and all the new stations which are under redevelopment.
For Senior Citizens –
They will have the new increased quota by 50% which means 120 lower berths per train.
New Trains on Main Routes –
Humsafar – It shall be an AC Train with optional meals.
Tejas – It will be a high-speed train with the speed of 130 kmph.
Uday – It is a double-decker train.
Antodaya – This is a non-reserved train.
Suresh Prabhu's Mission – 7 for Indian Railways –
Mission 25-tonne – It aims to increase revenue by increasing carrying capacity
Zero -Accident – For this purpose, there shall be the elimination of unmanned level crossing and there shall be TCAS ( Train Collision Avoidance System)
Mission Pace – Procurement and Consumption Efficiency
Raftaar Mission – Aims to double the speed of the trains
Mission Hundred – aims on sidings and freight terminals
Beyond Book-keeping – Aims to set up an accounting system
Capacity Utilization – To prepare a blueprint for making full use of the huge new capacity that aims to run through two freight corridors between Delhi-Mumbai and Delhi-Kolkata. It schedules to start by 2019.