Here is your UP Board Date Sheet/ Time Table for 10th and 12th Exams – Best of Luck for your exam

The Uttar Pradesh Madhyamik Shiksha Parishad, generally people call it UP Board, has released the Exam Date Sheet for 10th and 12th Board Exams in 2016. The Board Exams shall commence from 18th of Feb. But the conclusion of the exams for both the classes is different. The 10th Class Exams shall end on 9th of March whereas for Intermediate it shall be finished by 21st of March.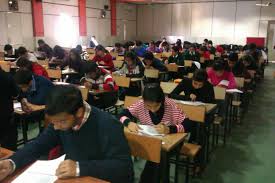 The UP Board has made all the preparations for the Exams. The Exam shall take place in two shifts seeing a large no of students. The first shift will follow the schedule 7:30 am to 10:45 am whereas the Second shift schedule is 2:00 pm to 5:15 pm.
As per the Official Records, there are as many as Sixty Seven Lakh Ninety Three Thousand and Thirty Four candidates had been enrolled for 2016 UP Board Exams. Out of these total candidates, around 37 Lakh and Fifty Thousand Candidates got themselves enrolled for High Class and approximately Thirty Lakh and Forty Three thousands would sit in the 12th Class Exam. So from these nos it is quite clear that this exam is going to be a great nuisance for the UP Board. The onus is to conduct a smooth exam for both the classes.
UP Board Date Sheet 2016 – 10th and 12th Classes Time Table –
The students of both the classes have done a lot of hard work for these board exams. For Intermediate Class, there are three streams viz. Science ( Medical and Non-medical), Commerce and Arts. For Matric Class, all the subjects except one or two are common. For the UP Board 10th Class, the first paper on 18th of Feb shall be of Hindi ( Only Morning Session) whereas for Sen Secondary Class it shall be of Military Science ( for both the sessions ). You can click the following link to see the complete Date Sheet / Time Table for UP 10th and 12th Classes Exams.
UP Board 10th, 12th Practical Exam Schedule –
Besides these main theoretical papers, there shall be the Practical Papers for all the Practical Subjects of 10th and 12th Classes. The Practical Exam shall begin on 19th of December 2015 and end on 21st of January 2016. So the candidates are advised to prepare for this practical schedule by preparing files and projects and also for viva voce.
As this is a bit exam from students' nos point of view, there shall be more than 12,000 examination centres all over the state. There shall be a large no of flying squads to check the use of unfair means during the exam. The final touch is being given to conduct this exam.
If you wanna get more than 90% marks, you must read the tips from here.
Download UP Board 12th Class Chemistry Expected Questions
12th Class English Important Questions