These days, there is the passion among the youngsters of becoming bouncers in the world. A bouncer is a young sombre looking man with sturdy physique who welcomes you at the entrance of some night club. He is also known as the Doorman or or Night Security Guard and so on. \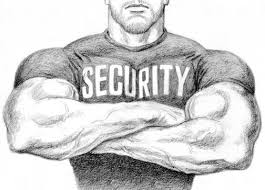 The most important thing is that although he is expected to provide security, he is bare handed. He doesn't have any weapon to intimidate others. His job is to handle the troubling customers/clients politely. So he depends upon his physical strength most of the time. The costumers are also influenced by his good physique.
There are male and female both types of bouncers in great demand. First of all check the eligibility for being bouncers in India –
Eligibility for being a bouncer-
There is no fixed eligibility for becoming bouncers. As they have to protect people and the owner's property, they must be strongly built with very good physique.
Some corporate sectors/ bars/ night clubs expect the bouncers to be qualified as well – at least graduates-  with good command over English because most of their clients/customers are highly educated people. Some Security firms prefer retired personnel from Defence.
Even the candidates who know martial arts, karate etc are preferred.
Now-a-days the demand for the bouncers has increased a lot especially the female bouncers. Female bouncers are preferred today just because the people don't feel uneasy in their company.
Places where Bouncers are in great demand ( Scope )
Night Clubs
Bars
Big Companies
Call Centres
Personal Security for Business men/women
The demand is only in big cities.
Salaries for Male/Female Bouncers –
Unlike other fields, the female bouncers earn more than their male counterparts.
For female bouncers the wages range from Rs 1,500 to 2,000 per shift + conveyance
For male bouncers it Rs 8,00 to 1,200 per shift + conveyance.
In that way the male bouncers can earn from 15,000 to 25,000 per month whereas Female bouncers from Rs 20,000 to 35,000 pm. But the salary will depend upon the nature of firms. It may be higher also.
Jobs are in shifts and one shift may last 4 to 8 hours.