We shall keep updating this post regarding HTET Result 2017 -2018 and related info. Therefore for such info keep visiting this page.
Dates of Exams are 23rd and 24th of December 2017. Therefore, the result shall be out in 2018 ( In Jan or Feb most Probably ). After  the exam, remain in touch with this page. The result may come by 25th of Jan 2018.
Latest Update - The  Haryana Education Board has declared Haryana TET Result now. See a brief summary of the result -
PGT candidates faced the worst result with marks in the range of 50 and 60. Women candidates are ahead in this result. Check it by visiting the official website of HBSE.
हरियाणा टेट का रिजल्ट 25 जनवरी पहले घोषित हो सकता है।
Result Update 28th Feb 2017 - HBSE has announced HTET Level 3 ( 2014-15 ) amended result of Commerce, Computer Science, Psychology, Chemistry and Pol Science. There was the change in the answer key which led to the change in the result.
HTET Update 8th Jan 2018 -
The board will upload OMR Sheets of Exam at the official website at 8:00 am on 9th of January 2018. The Answer Key will be released on 15th of January 2018 and the examinees shall be able to register their objections to Board Chairman till 22nd Jan. But to view the OMR sheets, the candidates will have to deposit Rs 100. Earlier the charges were Rs 500.
Though it is too early, we assure you that we shall bring you the answer key and result to you as soon as possible.
Expectations are also there that the successful candidates may get chance to be included in the ongoing process PGT / TGT Recruitment. So there is more curiosity.
The board has sent the result of the candidates who were declared unsuccessful earlier but pass later. However, the candidates who were already pass but got improved marks must visit official website of BSEH.  Links ahead ....
Some Solved Questions of PGT 23rd 2017 Exam
Read Complete Press Note from below -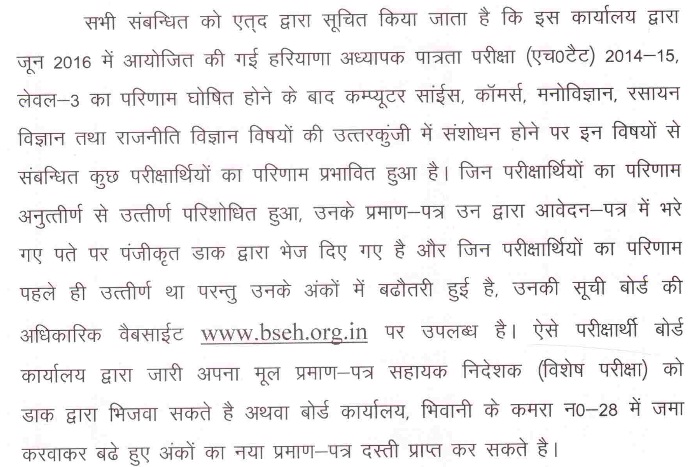 Result Links -
Haryana TET for PGT Category took place on 19th of June, 2016 after many hiccups. Now the Board has released the official answer key for the candidates to verify their responses. The candidates can also register their complaints regarding wrong answers in the Answer key. For More Details and PGT Official Answer key click on the following link.
HTET Result is expected on 25 Jan 2018. The Govt shall declare the result of various HSSC PGT Posts after that. The candidates who shall clear their HTET in this June exam shall get their Application Forms/ Status updated for HSSC PGT Recruitment.
Amid fear and rumour rife that 16th Nov HTET For Level 1 and Level 2 might also be cancelled like 15th Nov HTET ( read story from here ) , a huge no of candidates took Eligibility Test on Sunday. The Test was held for TGT Posts and Primary Teachers' Posts. It was the paper that consisted 150 Marks with 150 Questions.
The paper was bifurcated in to 90 Mark Portion and 60 Mark Portion. The 90 Mark Portion Checked the competence of the examinees in Pedagogy, English and Hindi whereas 60 Mark portion checked the knowledge in the concerned subject as per the posts.
The Official Answer key has been uploaded at the official website of BSEH. The Answer key shall be available from 21st of Nov to 27th of Nov just for 7 days. If you have any objection, you can submit that by the last date.
HTET Level 1 2 and 3 2017 Result
The Result is available below. The candidates need to enter their exam roll no. You can click here for HTET 2017 Result
Now the candidates wish to check their exam performance for that HTET Answer key is the reliable source. The Answer key shall be uploaded at the official website after the experts shall prepare it. The other Answer keys prepared by the Coaching centres and individuals shall come up in one or two days.
In the meantime you can check the Solution of HTET Level 1 Exam Answer key. Though the Exam has been cancelled and it has no benefit for you to check the Answer key, it is necessary for you to check your performance for future HTET. These are only answers of SET B English Paper -
HTET Questions with Answers TGT 15th Nov 2017

Q. Choose the mis-spelt word.
Answer - Simile
Q. Since Rahul was five years old, swimming has been his passion. Here Swimming is -
Answer - A Gerund
Q.  ' Know the ropes' means
Answer - It means to To understand the procedures and details involved in something.
Q. I must remember my key. " What does 'must' suggest?"
Answer - It comes for Necessity here.
Q. Synonym of ' profusion'?
Answer - Limited
Q. Synonym of Replete
Answer -  Sated
> The nightingale as well as the cuckoo is a singing bird.
Q. When —- hut.
> nearby
Q. I'm going ——–
Ans -some
Q. What is the synonym of Courteous -
Ans Polite
Q Meaning of Arrogant -
Ans Proud and Unpleasant
Q.What is beautiful in the sentence - Kavita is a beautiful girl.
Ans Adjective
Ans I shall come back at 7 o'clock.
Q.What is the childhood stage ?
Ans From 2 year to 10 or 12
HTET 3  Exam Questions with Answers
61. 3 The General cried at his men and asked them to fight the foe bravely.
64. Opposite of Ruthless - 2 Compassionate
63. 1 Adverb
66. 4
67. 2
68. 4 I'm sure this machine was invented by my uncle
69. 1 Scorn
Answer key for HTET 2015 at examweb.in
71. 1
73. 3
74. 4
75. 2
76. 2
77. 4
78. 1
79. 4
80. 3
82. 4
84. 1
So far these questions were available to us. These are questions which have come to us through Queries. You can also put some questions in the comment box below.
As we have told you that we shall update this post with the Answer keys of HTET 16th Nov 2015 as soon as we come across the question papers of the HTET. The HTET Result shall also be available here.