John Keats was a great English Poet who had carved a special niche for himself in a very short span of life. He was born on 31st of October 195 at Finsbury, London. His father was Thomas Keats and mother, Frances Jennings. John's interest in poetry started to begin when he was only fifteen. Due to family circumstances, he had to leave his schooling unfinished.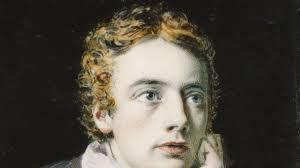 Keats had good relationship with Leigh Hunt and PB Shelley. In 1817, the first volume of Keats' poems came out. And in 1818 came out his great narrative poem Endymion. The whole of Keats' poetry is carrying two volumes – Poems of 1817 and another volume of Poems published in 1820.
His great narrative poetry includes Lamia, Isabella and The Eve of St Agnes. Hyperion and The Fall of Hyperion are his only efforts in epic poetry. He wrote Eve of St Agnes came out in 1819. The poem reflects on significant aspect of Keats' Poetry and that is his sensuousness.
Also read about Life and Literary works of the Following Writers –
Read about some of John Keats' great poems.
When I Have Fears that I May Cease to be – Famous Sonnet with Romantic Feeling
Ode to Psyche – Highly acclaimed work of Keats, Psyche is a heather Goddess, beloved of Eros or Cupid
Ode on Indolence – It was written in March 1819. Ten iambic pentameter is used in this poem.
Ode to Autumn – John Keats composed this poem in Sept 1819 and published in 1820. The Ode can be compared with Shelley's Ode to the West Wind.
Ode on a Grecian Urn – Written in 1819 and published in 1820.
Ode to a Nightingale – This is his loveliest poem.
The next ode is Ode on Melancholy – This is the last of the Odes in the 1920 Volume. Metre is Iambic Pentameter.
Keats is the most sensuous of all English Poets. His sensuousness is serious, comprehensive and full blooded. Keats died on Feb 23, 1821 in Rome.