View your BSEH or HBSE Matric / Sen Sec 2017-2018-2019 Annual/ Yearly / 2017-2018 / Re-appear/ Compartment / Supplementary Result from underneath - 10th /12th date/updates / Toppers' List-

दसवीं बारहवीं कक्षा 2018 कम्पार्टमेंट का परिणाम घोषित हो चुका है। नीचे चेक करें व् पूरी जानकारी प्राप्त करें।
10th/ 12th Reappear/ Supplementary / Compartment 30th July 2018 Updates - The result for both the classes for the condition has been declared on 30th of July 2018.
Check the pass percentage in the today's declared result -
For 10th Class - 47.40 %

For Secondary Class - 49.12 %
Report just immediately after the Declaration of Result -
After the poor show in the Board Results, the HBSE may do some damage control very soon. There were around 1.39 lac students in 10th class who couldn't taste the success. The same is the case with the 12th class.
The Board chairman took the  meeting regarding some issue. Now the candidates would be able to receive their Duplicate Certificates on Website Portal. The main information he shared is that the Secondary and Sr Secondary 2018 Result will be out by 20th of May. Read complete report from here.
Latest News/ Dates regarding Haryana Board 10th and 12th 2018 Outcome -
Starting Date of Matric 2018 Exam with conclusion date - 8th of March, 31st of March 2018
Initial and Conclusion Date of 10+2 classes - 07th of March and 4th of April
Result date for both the exams - Sen Sec 18th May 2018 and Secondary 21st of May ( Source : Jagbir Singh, Chairman HBSE and local newspaper )
Note - Dates of Exams are still tentative as they are changing frequently. But some main news papers have confirmed these given dates.
18th May 2018 12th Result
The Result for the Sr Secondary classes has been out. The pass percentage of this class is somewhere 63.84%. Some students have found themselves very disturbed especially in the assessment of one or two subjects. So they are looking for the forms of Rechecking and Re-evaluation. As per the sources, these forms may be out very soon. And the students will get at least one month time for whole process.
The board has released the 3 lists of the toppers which are available at its website.
The link is - Toppers List
Latest on 9th of June 2018 in pdf file-
Hearties congratulation to all the students for their result. If some students couldn't clear this exam, they must make double efforts with happy spirits. Then the joy will be happy. Our wishes are always with you.
21st May 2018 Monday 10th Result - Check Now
After several timings rumor, HBSE has released 10th result with link at its website. Around 3.78 candidates had appeared in this secondary result in the session 2017-2018.  As per the news published earlier, the result is somewhere 50%. Board's link of 10th  result is given below.
Go to this link and fill the details such as Roll No. or they can check it by names - Result 2018 10th
Important Words on 11th May 2018 - Various channels are demonstrating different dates of releasing board results.
It means the actual dates are not clear of both results ( 10th and 12th classes ). Moreover, the students may see their results on the said dates with around 99% possibility.
Previously, the board had decided to release it on 20th May immediately after the exam. However, the board has made such modification in the release of the result. Moreover, students of HBSE Open Schools can expect their result after two days of the exam.
How are 2018 Exams going on ?
There is information that at some places there is no control over cheating. As a result, the board has to appoint Special Observers at such places. Most of the Exams are simple.
Latest News - July 2017 Compartment / Re-appear Result is  out. Direct links are available below. Check it roll-no. wise.
Great News for Students 2018 - There shall not be the deduction of marks during rechecking.
पुनर्मूल्यांकन में अब नंबर नहीं घटेंगे। ज्यादा नंबर ही अब मान्य होंगे।
Now as per the new rules, students fail in one subject have been declared under Re-appear / Compartment category. Re-appear Exam for both Sr / Sr Sec will take place in July 2017. However, the govt may take the decision of relaxing the students from the re-appear failed in one subject. According to our sources, the revised result may come in June.
Breaking News 22/05/2017 - Result is available once again. Enjoy it .......


बोर्ड ने कुछ समय के लिए रिजल्ट रोक दिया है।  आप दसवीं के रिजल्ट के लिए इस पेज के संपर्क में रहें।  असुविधा के लिए खेद है।
The 10th Result is out on 20th May 2017 sharp at 4:00 pm. It will certainly put a full stop to the wild speculations about it. The students can check it roll no wise and name wise. As per our expectations, it shall be better than last session's (2015-2016 ) result.  Direct Links are available below.

हरियाणा बोर्ड ने दसवीं का परीक्षा का परिणाम घोषित  है।  विद्यार्थी इसे निचे के लिंक से देख सकते हैं। 
10th Class Toppers' List in Haryana Board - ( We shall this list Update today after 6:00 pm)
Name/
School
Marks Obtained
 Yudhvir from  Sirsa
499/500
Sumit , Danoda ( Narwana)
496/500
 Sonam , Jind and Rakesh, Palwal
 Third Position
18/05/2017 - As per the latest news, 12th result is out on 18th of May 2017 at 4:00 pm.Check it from below.
As per the sources, Board Press Conference by Board Secretary Anil Nagar may take place on 18/05/2017 at 2:00pm.
12th का परीक्षा परिणाम 18 मई को सायं  4 बजे घोषित हो सकता है।  इसी तरह 10th का परिणाम 20 मई को आने की पूरी सम्भावना है।  इस विषय में बोर्ड की तरफ से प्रेस कांफ्रेंस 18 मई को हो सकती है।
| | |
| --- | --- |
| Name of the Exam | Date of Result |
| 12th | 18th of May at 4:00 pm |
| 10th | 20th of May 2017 |
Haryana board has declared the result of 12th class on 18th of May 2017. The pass percentage has been 64.5. The girls secured 73.55 pass percentage as comparison to the boys who could manage only 57.58%. This time the students of rural areas have outshone those of the urban ones. 
Check Stream-wise Toppers List -
Name of the Students/ School Name
Marks Obtained
Harish Sharma / Vivekanand Sr Secondary School, Kosali Rewari
491
Vineet /Saraswati Vidya Mandir School Butana And

Happy / SM Hindu Sr Secondary School Sonepat

489
Preety/ Saraswati Vidya Vihar Sr Sec School, Asalwas Bhiwani, Gaurav and Yogesh / Vidya Mandir Sr Sec School, Bhiwani, Sudha / Jeevan Jyoti Sr Sec School Rewari
488
Top 03 Students in Haryana 12th Commerce -
| | |
| --- | --- |
| Student/ School | Marks |
| Urvashi / Vijeta Public Sr Sec School, Karnal | 490 |
| Neha/ Avinash/ Swati | 486 Each |
| Riya Bansal | 485 |
Top Three Position earners in HBSE 12th Arts Stream-
| | |
| --- | --- |
| Name / School | Marks |
| Smilie/Arohi Model Sr Sec School Fatehabad , Kusum/ Saint Vivekanand Vidyapeeth Sonepat | 483 |
| Ritu/ S.D Kanya Mahavidyalya Narwana / Komal Rajaram Memorial Public Sr Sec School Gurugram | 481 |
| Harpreet | 480 |
There may be a gap of one or two days between these two board classes. The board had claimed that this year it would release the result sooner.
So far there is no confirmed dates regarding the result announcement. There are more rumors than reality. Now the students have also lost their patience. 
Click here for 10th Class Result
HBSE 12th Result ( Arts, Commerce, Science) from here.
For the 10th Result keep in touch.

29/03/2017 News - The marking for both classes 10th and 12th have begun from 27th and 28th of March respectively. The process of evaluation of the answer sheets is very fast. It seems that board is determined to declare the result of both classes in the month of April.
20th March Update - Exams are going on smoothly except some cases of cheating in some districts. The flying squads have relieved a no of supervisors and made cases against hundreds of students in the state. The marking of the 10th/12th exams may begin from 1st of April 2017.
As we have received some information from some sources, the result shall be prepared by 20th of April. That's why the students may find their result at HBSE's official website either in last week of April or 1st week of May.
Result Late Candidates ( Regular/ Private ) Candidates March 2017 can apply now.
Download Application Form For Regular Candidates
Application Form For Private Candidates
Latest Info 17th Nov 2016-
The Board has scrapped the Semester System. So there shall be annual exam for 2016-17 session. This time Compartment exams are going on in Sept 2016 for both classes 10th and 12th. Result for Secondary and Sr Secondary Classes are declared now.  Results links below.
There is the news that for Current session 2016-17, there shall be 3 hrs paper. It means the paper may be of 100 marks without Internal score.
Board Sen Secondary Result in one glance -
The Haryana  Board of School Education has declared the 12th Result for 2nd Semester on 18th of May. Total 2.45 lac students had taken the exam out of which 1.53 lac candidates have  cleared it. Total Pass % is 62.4% with girls' pass % 70.77% and boys' far behind with the pass percentage is 55.7%.
The most important points regarding the 2015-16 Second Semester Result is that it is 9% better than the previous year's exam and govt schools have produced better results this year.
The Answer sheets are now being evaluated and the candidates will be able to check their Exam HBSE 10th/12th 2016 Exam Result very soon. Check the result from the links below -
Haryana Board 10th/12th Regular / Re-appear Result 2018 -2019

Use the following links for knowing your Bhiwani Board Result for Secondary and Sr Secondary Classes.
Read Re-evaluation related information from here.
Click here for 8th March 2016 12th Second Sem English Paper Solution
English Guess Paper for 12th Class ( 2018-2019)
Last Updated on 24th of April 2016 - As per the information we have received, the marking for 10th and 12th classes for Regular Candidates ( 2nd Semester) and Re-appear Candidates ( 1st Semester) has been done. The details of the marking have been sent to the HBSE.
Result Update on May 16 - As per the statement released by HBSE Chairperson Dr Jasbir Singh, the Board Exam Results for both 10th and 12th Classes ( Second Semester) shall  be out on 18th of May 2016 ( 18/05/2016). Time of the Result Declaration may be be 9:00 am onward. रिजल्ट के लिंक नीचे दिए गए हैं।  इन लिंक्स पर क्लिक करें व रिजल्ट चेक करें। शुभ कामनाएं।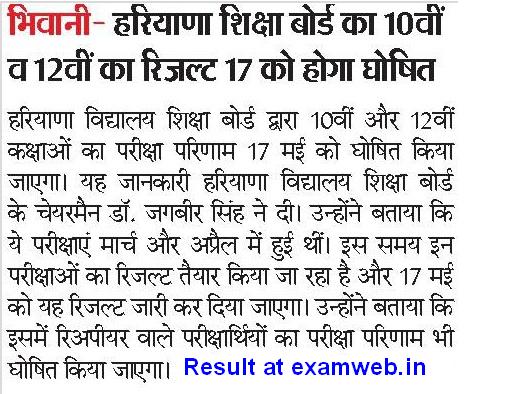 Last Update on May 5 - There are also the murmuring that the Exam may be out earlier to 20th of May. There is no official report for that. We shall update the post with the Result date very soon.
Haryana Board Exam Related news- ( courtesy - The Tribune )

Updated on 12th Dec 2016 - In what can be said as the step toward improving the standard of education in the state, HBSE has decided to fail the students of 10th and 12th classes if they could not clear more than one subject.
If any student fails in one subject, he/she shall get reappear. On the other hand, if he/she fails in more than one subject, they will have to take exams as fail candidates. They will get no reappear chance.
The govt has taken this move to improve the standard of education. Though the result shall be down, the students shall be serious towards their education as the board believes.
Last year around 3,800 candidates failed in board classes and all of them got chance to reappear.
Related Old Stuff  -
Let us throw some light on the Secondary and Senior Secondary Exams concluded recently. All the papers of three Streams ( Science with Maths and Biology, Arts and Commerce ) followed  strictly the syllabus prescribed by the board. The First paper was of English.
The solution of this English Paper we had published. You can check it from here( 29th Sept Solved Paper of English ). But some students complained that one or two questions of Mathematics were tricky. That is the part of each and every exam. Now get ready for getting your 1st Semester Exam Result. So don't worry. Believe in yourself.
How can a student check his/her Haryana Board Regular/ Reappear Result of 10th or 12th class 2017-2018 ?
For student of either of the classes , he/she will have to reach the official website of the board - http://www.bseh.org.in/

Here you shall find the link with the word new.
Click on it.
The new page will open.
Fill your Exam Roll No and submit it.
A slip will appear with your name and parents' names.
That slip will be carrying your score card with other useful information.
Take out its print.
प्यारे विद्यार्थियों आपका Haryana Board का Result  जल्द ही घोषित होने वाला है ,  जैसा की हमें सूत्रों से पता चला है।  आप अपना  10th and 12th Result आगे दिए हुए Links पर देख सकते हैं।